September 5, 2023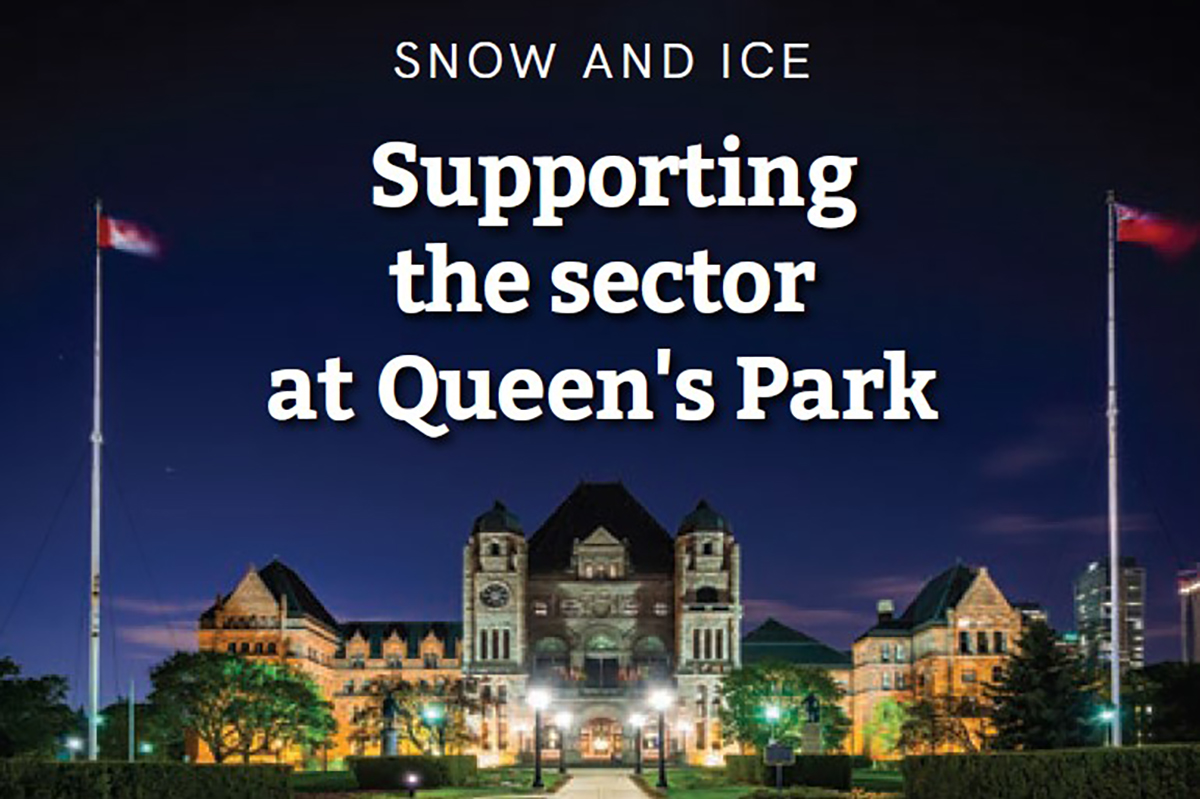 Snow and Ice: Supporting the sector at Queen's Park
By Julia Harmsworth
Landscape Ontario's Snow and Ice Sector Group (SISG) is working to improve working conditions for snow contractors across the province — and they need your help.
What's happening?
On Oct. 24 from 3 p.m. to 7 p.m., some 10 to 15 representatives from the Snow and Ice Sector group (SISG) will head to Queen's Park to lobby for legislative change on issues affecting contractors and communities across Ontario. They will speak face-to-face with MPPs about the issue along with Daisy Group, a lobbying firm Landscape Ontario has partnered with on government relations work.
Why are these reforms so important?
These suggested reforms will lead to affordable and accessible insurance, create safer sites and working conditions, mitigate the loss of contractors willing to provide snow and ice services, and benefit the millions of Ontarians who use snow and ice services each winter.
The changes will also create a better educated, more professional, well-respected snow and ice workforce, which will improve public perception of the Sector.
What legislative changes is the Sector pushing for?
The SISG is asking the provincial government to create legislation to support the establishment of an Authority Having Jurisdiction (AHJ) over snow and ice management so the industry can be better regulated.
They also suggest current legislation be changed so that property owners cannot transfer their responsibilities over to Snow and Ice contractors — so those contractors are not individually liable for accidents that occur on the job.
The Sector wishes for both owners and contractors to be given legal liability protections if they comply with educational requirements.
Lastly, the Sector asks the provincial government to commission a detailed study into the industry to identify its ongoing problems and inform the best course of action.
What else is happening on the day?
Landscape Ontario and Daisy Group plan on hosting a "Touch a Truck" event outside Queen's Park to allow MPPs and their staff to experience the equipment and learn more about snow and ice management.
LO is also hosting an indoor evening reception, so the Sector representatives can engage with MPPs and their staff in a more casual environment.
How do I get there?
The Legislative Assembly of Ontario at Queen's Park is located at 110 Wellesley St. West in downtown Toronto, just north of University Ave. and College St.
There is limited wheelchair-accessible parking in the northeast parking lot and the south drive. Vehicles without accessible parking permits can stop briefly in front of the main entrance for drop-off or pick-up only.
Public parking is available a 10-minute walk away at the Green P lot, University of Toronto, St. George Campus Parking and the University Health Network Parking.
If you are taking public transit, the closest subway stop to the building's main entrance is Queen's Park station on the Yonge-University subway line. The 506 Carlton Streetcar also stops at Queen's Park station. The 5 Avenue Road and 94 Wellesley Street buses stop at Queen's Park. The subway, streetcar, and bus are easily accessible from Union Station if you are taking the GO train into Toronto.
Upon arrival, you will go through a security screening process and there may be wait times, so be sure to arrive around 30 minutes early.
How can I support the Sector from home?
If you cannot be in the room with the legislative members, there is still plenty you can do to help. Keep talking about the issue and write to your MPP. Their contact information can be found on the Legislative Assembly of Ontario website. Remember to introduce yourself as a constituent.
You can also donate to the cause by sending an e-transfer to
etransfer@landscapeontario.com
with the word 'snow' in the message. Your money will help pay for work with Daisy Group and support future marketing campaigns.
The Sector also needs your feel-good stories to help get the word out there. Have you helped a member of the local community in their time of need?
If so, reach out to
jsalemi@landscapeontario.com
to share your story and help the cause.