December 15, 2016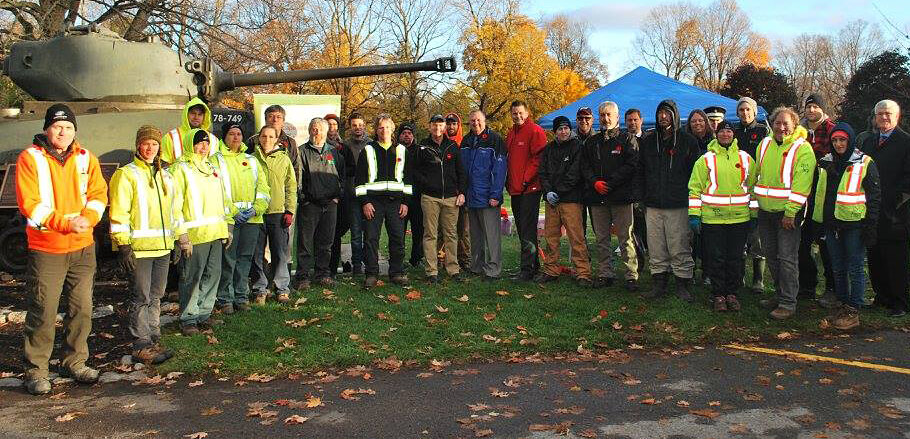 Ottawa Chapter prepares Beechwood for Remembrance Day
Now in its second decade, the 11th annual Ottawa Chapter Day of Tribute for the Canadian Military and their families, took place at the National Military Cemetery at Beechwood, on Nov. 4, 2016. The event features members of Landscape Ontario working together with members of the Canadian Armed Forces to prepare the grounds for annual Remembrance Day proceedings.

Sponsored by Geosynthetic Systems, event chair, Pete Campbell, retired Chief Warrant Officer, and committee members: Chris Urquhart CLP, Green Unlimited; Andrew Burgess, Natural Impressions Landscaping; and Tyler Owen, Thunderbolt Landscaping; all worked together to create an inclusive maintenance plan for the day. Sunny skies prevailed, although cold weather was a factor.

The day began with registration, coffee and muffins sponsored by Jerome Landscaping. Greetings this year included: Deputy Mayor, Bob Monette; Roger Boult, Beechwood Cemetery; Chief Warrant Officer David Snyder, Canadian Armed Forces; Captain Joe Sipos, Canadian War Graves Commission; Sundaura Alford-Purvis, Ottawa Chapter president; Event Chair and Retired Chief Warrant Officer, Pete Campbell, Geosynthetic Systems. Over 30 individuals attended this year's event to perform the maintenance of the cemetery.

Through the support of Geosynthetic Systems, the committee gave all participants and sponsors a red zippered hoodie, with the Day of Tribute and Landscape Ontario logo printed on the back, as a thank you for their commitment to the event. Poppies were worn by all participants to mark Remembrance Day.

Organizers and LO's Ottawa Chapter would like to thank the following sponsors, members and participants, without whom the day would not be possible: Geosynthetic Systems (title sponsor); Jerome Landscaping (muffins and coffee); Bradley's Commercial Insurance (lunch), Manderley Turf Products (grass seed); Nutri-Lawn Ottawa and Plant Products (fertilizer); and SIPAN tires ($300 gift certificate for participants); Julie Archambault, Canadian Forces DND; Clintar Landscape Management Ottawa; Green Unlimited; Lafleur de La Capitale; Mark Nesbitt Consulting; Permacon; Peter Smit and Sons; Thunderbolt Contracting; Weedman-Ottawa; Welwyn Wong Landscape Design; and Mr. T. Contracting.